Updated Lemhi Mineral Resource Estimated ("MRE") increases contained ounces by 24%, overall gold grade by 16% and percentage of the MRE in Measured and Indicated by 32%
The pit constrained MRE using a 0.35 gram per tonne gold ("g/t Au") cut-off and a gold price of US$1750 per troy ounce ("oz") is comprised of:

Measured and Indicated MRE of 988,100 oz gold ("Au") at 1.00 gram per tonne ("g/t") in 30.02 million tonnes.
Inferred MRE of 234,700 oz Au at 1.01 g/t in 7.34 million tonnes.

Current MRE was constructed from a total of 81,497 m of drilling and 442 drillholes completed between 1983 and 2022;
The resource is modelled as primarily amenable to open pit mining using standard, low-cost gold leaching technologies, including carbon in leach and heap leach processing;
Over 90% of the MRE contained within 100% owned patented claims;
The underground MRE (inferred) resource contains 21,300 oz at 2.27 g/t Au;
Resource remains open on strike to the north, south and west as well as at depth;
Resource assumes gold recoveries of 96.7 % using traditional CIL/CIP based on recent metallurgy completed by Freeman.
Toronto Venture Stock Exchange: FMAN
VANCOUVER, BRITISH COLUMBIA – April 10, 2023 – Freeman Gold Corp. (TSXV: FMAN, OTCQX: FMANF, FSE: 3WU) ("Freeman" or the "Company") is pleased to announce results of the updated Mineral Resource Estimate ("MRE") conducted on its 100% owned Lemhi Gold Deposit located in Idaho. The MRE was completed by APEX Geoscience Ltd., Edmonton, Alberta.
Paul Matysek, Executive Chairman of the Company, stated, "Our new MRE for Lemhi firmly establishes this Project as one of the few remaining large, high-grade oxide gold deposits in the USA. We have successfully increased the size of the deposit by 24% while maintaining an approximate 1 g/t Au average grade. In addition to the increased size, we have continued de-risking the deposit by substantially improving the resource category with almost 1 million ounces in the Measured and Indicated category. We now look forward to incorporating this resource update into a maiden economic study for Lemhi."
The updated MRE represents a 32% increase in Measured and Indicated ("M&I") ounces as well as a 24% increase in size and 16% increase in grade over the maiden resource released just 20 months ago (see press release dated July 8, 2021). The significant increases can be attributed to: infill drilling in previously defined areas of inferred mineralization; expansion drilling to the north, south, east and west; and, the discovery of the Beauty zone. The deposit remains open to the north (1.23 g/t over 36m; FG22-034C), south (1.22 g/t over 38.59m; FG22-050C and 5.95 g/t over 9.14m; FG22-022C), and west (0.61 g/t Au over 66m; FG22-011C).
All reported mineral resources occur within a pit shell optimized using values of US$1,750 per ounce of gold ("Au") and a potential underground economic shell that utilized a minimum mineralization thickness of 1 metre and a cutoff grade of 1.5 grams per tonne ("g/t") lower cut-off. The Open Pit Measured, Indicated and Inferred MRE are undiluted and constrained within an optimized pit shell, at a 0.35 g/t lower cut-off. The Open Pit MRE comprises a Measured Mineral Resource of 4.47 million tonnes at 1.15 g/t Au for 168,800 oz of gold, an Indicated Mineral Resource of 25.55 million tonnes at 0.98 g/t Au for 819,300 oz of gold, and an Inferred Mineral Resource of 7.34 million tonnes at 1.01 g/t Au for 234,700 oz of gold (Table 1). The potential underground Inferred MRE is undiluted and was manually constrained to shells that showed a minimum thickness of at least 1 metre at a lower cutoff grade of 1.5 g/t and showed continuity of mineralization. The underground MRE comprises an Inferred Mineral Resource of 296,000 tonnes at 2.27 g/t Au for 21,300 oz of gold (Table 1).
Table 1: 2023 Mineral Resource Estimate for the Lemhi Gold Project, Idaho, USA
| | | | | | | |
| --- | --- | --- | --- | --- | --- | --- |
| Cutoff g/t | Zone | RPEEE Scenario | Classification | Tonnes | Ounces | g/t |
| 0.35 | Lemhi & Beauty | OP | Measured | 4,469,000 | 168,800 | 1.15 |
| 0.35 | Lemhi & Beauty | OP | Indicated | 25,553,000 | 819,300 | 0.98 |
| 0.35 | Lemhi & Beauty | OP | M&I | 30,022,000 | 988,100 | 1.00 |
| 0.35 | Lemhi & Beauty | OP | Inferred | 7,338,000 | 234,700 | 1.01 |
| | | | | | | |
| 1.5 | Lemhi | UG | Inferred | 296,000 | 21,300 | 2.27 |
| | | | | | | |
| 0.35/1.5 | Lemhi & Beauty | Combined | Measured | 4,469,000 | 168,800 | 1.15 |
| 0.35/1.5 | Lemhi & Beauty | Combined | Indicated | 25,553,000 | 819,300 | 0.98 |
| 0.35/1.5 | Lemhi & Beauty | Combined | M&I | 30,022,000 | 988,100 | 1.00 |
| 0.35/1.5 | Lemhi & Beauty | Combined | Inferred | 7,634,000 | 256,000 | 1.04 |
Notes to Table 1:
The mineral resource is reported at a cut-off of 0.35 g/t Au for the conceptual open pit and 1.5 g/t Au for the conceptual underground extraction scenario. The lower cut-off grades and potential mining scenarios were calculated using the following parameters: mining cost = US$2.10/t (open pit mineralized);US$2.00/t (open pit waste), US$75/t (underground mineralized) G&A = US$2.00/t; processing cost = US$8.00/t; recoveries = 97%, gold price = US$1,750.00/oz; royalties = 1%; and minimum mining widths = 1.0 m (underground) in order to meet the requirement that the reported Mineral Resources show "reasonable prospects for eventual economic extraction".
The mineral resources presented are not mineral reserves and they do not have demonstrated economic viability. There is no guarantee that any part of the resources defined by the MRE will be converted to a mineral reserve in the future.
The Inferred Mineral Resource in this estimate has a lower level of confidence than that applied to an Indicated Mineral Resource and must not be converted to a Mineral Reserve. It is reasonably expected that the majority of the Inferred Mineral Resource could potentially be upgraded to an Indicated Mineral Resource with continued exploration.
The estimate of Mineral Resources may be materially affected by environmental, permitting, legal, title, taxation, socio-political, marketing, or other relevant issues.
A default density ranging from 2.53 to 2.64 g/cm3 was used for the mineralized zones depending upon the combination of host rock and alteration. Resources are presented as undiluted and in situ.
The Mineral Resources were estimated in accordance with the Canadian Institute of Mining, Metallurgy and Petroleum (CIM), CIM Standards on Mineral Resources and Reserves, Definitions (2014) and Best Practices Guidelines (2019) prepared by the CIM Standing Committee on Reserve Definitions and adopted by the CIM Council.
This mineral resource estimate is dated March 15, 2023. The effective date for the drill hole database used to produce this mineral resource estimate is February 1, 2023.
Mr. Michael Dufresne M.Sc., P.Geol., P.Geol., of APEX Geoscience Ltd., deemed a Qualified Person as defined by NI 43-101 is responsible for the completion of the MRE.
Totals may not sum due to rounding.
Estimation Methodology
The Lemhi Project database contains a total of 506 drill holes with 64,299 sample intervals in a sample database with 62,670 samples assayed for gold. The Lemhi Project MRE utilized 442 drill holes (81,497 m) that intersected the interpreted mineralization wireframes, with 284 drill holes completed between 1983 and 1995, and 158 drill holes completed between 2012 and 2022. Inside the mineralized domains there is a total of 16,234 samples analyzed for gold. The current drill hole database is deemed to be in good condition and suitable for use in ongoing MRE studies. Mr. Michael Dufresne, M.Sc., P.Geol., P.Geo., President of APEX Geoscience Ltd., is an independent Qualified Person ("QP") and is responsible for the MRE.
Modeling was conducted in the Universal Transverse Mercator (UTM) coordinate space relative to the North American Datum (NAD) 1983, National Spatial Reference System 2011, and State Plane Idaho Central, (EPSG:6448). The mineral resource block model utilized a block size of 2.5 m (X) x 2.5 m (Y) x 2.5 m (Z) in order to honour the interpreted mineralization wireframes. The percentage of the volume of each block within each mineralization domain was calculated and used in the MRE. The gold estimation was completed using ordinary kriging (OK), utilizing 8,938 composited samples within the interpreted mineralization wireframes. The search ellipsoid size used to estimate the gold grades was defined by modelled variograms. Block grade estimation employed locally varying anisotropy, which allows structural complexities to be reproduced in the estimated block model.
Two mineralization domains were modeled at the Lemhi Gold Project. The "Lemhi" domain which is the primary main domain and the "Beauty Zone" domain which resides roughly 500 metres to the west of the Lemhi domain. There are two dominant styles of gold mineralization at the Lemhi Gold Project. The primary mineralization occurs as a halo around an intrusion with secondary mineralization along shallow dipping foliation and faults. Both styles of mineralization generally occur as stacked parallel sub-horizontal sheets.
A total of 14,208 specific gravity samples analyses were available and utilized to determine the bulk density. The bulk rock density shown in Table 2 was assigned based on three main geologic units – the host-rock Metasedimentary package, the Intrusion, and Silt Breccia.
Table 2: Assigned Bulk Rock value based on Geologic Unit
| | |
| --- | --- |
| Geologic Unit | Assigned Bulk Rock Value (g/cm3) |
| Metased Package | 2.64 |
| Intrusion | 2.58 |
| Silt Breccia | 2.53 |
The resource is classified according to the CIM "Estimation of Mineral Resources and Mineral Reserves Best Practice Guidelines" dated November 29, 2019, and CIM "Definition Standards for Mineral Resources and Mineral Reserves" dated May 10, 2014. The QP believes the Lemhi Gold Project has the potential in future for eventual economic extraction.
The current MRE is based on the addition of 70 new drill holes and now contains 168,800 oz Au Measured (new as was zero in the last MRE), and a total of 988,100 oz Au M&I which is a 32% increase over the 2021 M&I ounces. As well, 256,000 oz Au Inferred represents a slight increase of about 2.3% in Inferred ounces versus the 2021 Inferred ounces. The current open pit resource is shown in Figure 1. A complete list of sections containing the current block model can be found on Freeman's website.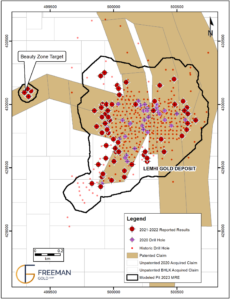 Figure 1. 2023 Open Pit Resource (0.35 g/t Au cutoff and $1,750 gold)
Qualified Person
The scientific and technical information in this news release has been reviewed and approved by Michael Dufresne, M.Sc., P.Geol., P.Geo., President of APEX Geoscience Ltd. and a Qualified Person as defined in NI 43-101.
About the Company and Project
Freeman Gold Corp. is a mineral exploration company focused on the development of its 100% owned Lemhi Gold property (the "Project"). The Project comprises 30 square kilometres of highly prospective land, hosting a near-surface oxide gold resource. The current pit constrained mineral resource estimate is comprised of 988,100 oz gold ("Au") at 1.0 grams per tonne ("g/t") in 30.02 million tonnes (Measured and Indicated) and 234,700 oz Au at 1.01 g/t Au in 7.34 million tonnes (Inferred). As well, 21,300 oz Au at 2.27 g/t in 296,000 tonnes (inferred) make up the underground portion of the resource. The Company is focused on growing and advancing the Project towards a production decision.
On Behalf of the Company
William Randall
President and Chief Executive Officer
For further information, please visit the Company's website at www.freemangoldcorp.com or contact Mr. Bassam Moubarak at 604-618-4919 or by email at: bm@bmstrategiccapital.com.
Neither the TSX Venture Exchange nor its Regulation Services Provider (as that term is defined in the policies of the TSX Venture Exchange) accepts responsibility for the adequacy or accuracy of this release.
Forward-Looking Statements: This press release contains "forward‐looking information or statements" within the meaning of Canadian securities laws, which may include, but are not limited to statements relating to exploration, results therefrom, and the Company's future business plans. All statements in this release, other than statements of historical facts that address events or developments that the Company expects to occur, are forward-looking statements. Forward-looking statements are statements that are not historical facts and are generally, but not always, identified by the words "expects," "plans", "anticipates", "believes", "intends", "estimates", "projects", "potential" and similar expressions, or that events or conditions "will", "would", "may", "could" or "should" occur. Although the Company believes the expectations expressed in such forward-looking statements are based on reasonable assumptions, such statements are not guarantees of future performance and actual results may differ from those in the forward-looking statements. Such forward-looking information reflects the Company's views with respect to future events and is subject to risks, uncertainties, and assumptions. The reader is urged to refer to the Company's reports, publicly available through the Canadian Securities Administrators' System for Electronic Document Analysis and Retrieval (SEDAR) at www.sedar.com for a more complete discussion of such risk factors and their potential effects. The Company does not undertake to update forward‐looking statements or forward‐looking information, except as required by law.